Precision Wire Coating
Hyperion Materials & Technologies' specialized diamond wire coating is designed to meet the demanding requirements of fixed abrasive wire production.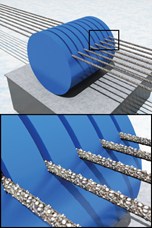 Balancing plating performance with superior chemical corrosion resistance during the wire manufacturing process is the primary advantage of the PW30-A coating. The PW-A coating can be tailored to provide the optimal balance between manufacturing efficiency and cut performance, ultimately providing a superior wire.
PW Coating Series
The PW-A coating series was engineered to provide fixed abrasive wire manufacturers improved wire manufacturability and superior cut rates. The unique properties of the PW-A coating combine high corrosion resistance and repeatable plate rates leading to efficiency gains during the manufacturing process of fixed abrasive wire. Wire produced with the combination of Hyperion's world renowned micron diamond and the PW-A coating are ideally suited to process solar silicon, SiC, and sapphire. The PW-A coating can be tailored to meet individual plating needs, further increasing the performance of the product.
PW Series Coatings
PW-A Coating*
20% Ni
30% Ni
10% Ti / 20% Ni
10% Ti / 30% Ni
30% Ni

Premium Grade

MBM-PW20

MBM-PW30

MBM-PW20D

MBM-PW30D

MBM-PW30-A

Standard Grade

SJK-5PW20

SJK-5PW30

SJK-5PW20D

SJK-5PW30D

SJK-5PW30-A
*Note: Customized coating assay % are available upon request. The PW-A coating can also be applied to customized diamond particle size distributions upon request.
Your Hyperion sales person can offer their expertise in selecting the precision wire coating best suited to solve your needs.