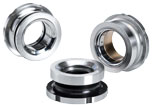 Hyperion Materials & Technologies manufactures optimized solutions for domer tooling applications including steel (coated and uncoated), cemented carbides, and zirconia ceramics. These tools include dome dies and outer retainer/hold down rings.
Your Hyperion sales person can offer their expertise in selecting the canmaker bodymaker solution best suited to solve your can tooling needs.
Did you know you can recycle your cemented carbide with Hyperion? Visit our recycling page or contact us for details.
*Cemented carbide is also known as solid carbide and tungsten carbide (WC).