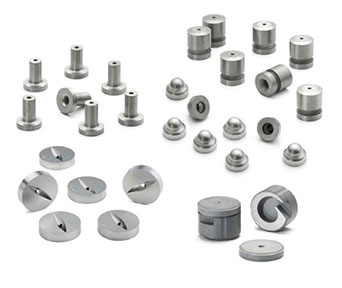 Working conditions for dairy, pharmaceutical, food, and industrial applications require a high level of pressure and corrosion resistance. Hyperion Materials & Technologies cemented carbide (also known as solid carbide or tungsten carbide (WC)) nozzles show high wear and abrasion resistance helping to maintain a longer spray pattern. In addition to nozzles, Hyperion offers a full line of wear parts for spray systems including funnel shapes, orifice inserts, and swirl chambers.
Materials are FDA compliant.
PRODUCTS
SOLUTIONS

• Nozzles

• Swirl chamber design

• Orifice inserts

• Funnel shape

• Material hardness up to 2000 HV30 / 94 Rockwell

• Other harder solutions: Versimax
BENEFITS
• A stable and homogenous spray pattern/angle thanks to the high wear and abrasion resistance properties
• Reliable performance and extended working life
Versimax™ Diamond Composite
Versimax™ diamond composite (PCD) also has the wear resistance, mechanical strength, and high temperature stability needed for wear parts and nozzles. This patented composite has wear resistance approaching sintered diamond but provides substantially higher thermal stability and is available as large as 33 mm diameter by 35 mm overall thickness.
Other fluid handling wear parts manufactured by Hyperion include:
Your Hyperion sales person can offer their expertise in selecting the wear part best suited to solve your needs.
Did you know you can recycle your cemented carbide with Hyperion? Visit our recycling page or contact us for details.