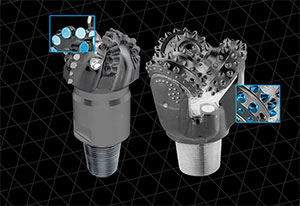 Hyperion Materials & Technologies manufactures quality downhole cutters and drill bits. As the pursuit for oil and gas resources drive operators to drill in more complex formations, greater efficiency and durability is required from their drilling operations. Bit design has been a focus with great strides made in steerability, hole quality, and durability of roller cone bits, fixed cutter polycrystalline diamond (PDC, also known as man-made diamond and synthetic diamond) bits, and hybrid bits used in oil and gas formations around the world. To achieve an economical result, ROP, distance drilled, minimal number of trips, and good bit dull conditions are paramount.
The selection of high performance cutter inserts and wear protection materials is critical in order to get the most from these new bit designs. By the very nature of its application, the drill bit is subjected to high degree of impact and abrasion as it moves through transition zones and drills long laterals.
To meet the rock crushing demands of today's roller cone bit, Hyperion has an extensive selection of tungsten carbide (WC, also known as solid carbide and cemented carbide) inserts and buttons. In fixed cutter PDC bits, abrasion resistance, cutter toughness, and thermal stability needs depend on the formation being drilled. Hyperion has designed PDC cutter inserts to meet the most demanding applications. A full family of state-of-the-art Stratapax® cutters ensures you have the right cutter for the application.
Additionally, Hyperion offers a broad range of tungsten carbide stabilizer inserts and thermally stable diamond Geoset® inserts to help maintain gage over long runs.
Contact your Hyperion sales associate to find out how we can help improve durability and enhance drilling performance of your drill bit.