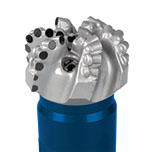 Abrasion, impact toughness, and erosion resistance are critical attributes to be considered in the selection of polycrystalline diamond (PDC, also known as man-made diamond and synthetic diamond) cutter inserts for the demanding environments found in downhole drilling applications. Hyperion Materials & Technologies manufactures PDC drill bits and PDC and cemented carbide (also known as solid carbide and tungsten carbide (WC)) wear pads for all your downhole drilling applications.
Matrix body and steel body drill bits require advanced, high performance PDC cutter inserts to help deliver the highest rate of penetration possible, achieving both drill depth targets and the lowest cost per foot. A number of Stratapax® diamond drill blank families have been designed to deliver peak performance based upon the critical cutter attributes required to match the bit design and formation characteristics.
PDC Drill Bits
Metal matrix bits are designed for very hard formations. MBS® diamond is a key component of the matrix body, providing sharp diamond cutting edges that are refreshed throughout the drilling process. Our Sratapax® diamond cutters are one of the most highly effective products for downhole drilling.
Wear Pads
Protect downhole tools by using the thermal and abrasion resistance characteristics of Geoset® drill diamond to provide abrasive resistance for longer tool life. We have an extensive cemented carbide product portfolio used as wear pads in downhole drilling.