Versirion® (5) - Standard Blanks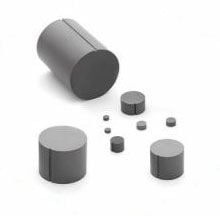 Hyperion Code: VRW5
Wire Material: Copper/Aluminium
Description: Versirion wire die blanks are self-supported and do not have cemented carbide support rings. Standard blank sizes are available in a select number of ADDMA sizes.
VERSIRION® WIRE DIE BLANKS
Hyperion Materials & Technologies manufactures Versirion®, a revolutionary silicon carbide and polycrystalline diamond (PCD) composite with increased wear property and thermal stability. Versirion is made by a state-of-the-art high-pressure high-temperature process and is based on the Versimax® composite developed for wire drawing and wear applications.
VERSIRION® - Standard assortment
Standard Versirion blank sizes are available in ADDMA numbers D6, D12, D15, D18, D21, D24, D27, D30, D33, and D36. They may also be tailor-made with diameters of 23.0, 25.0, 30.0, and 35.0 mm.
Application Matrix
Versirion® and Versimax® Product Offering

Grade
Average Grain Size
Applications
Versirion® (VRW5)

Fine Grain

Average 5 µm

Low carbon steel
Tire cord
Aluminum
Copper with higher surface finish requirement

Versirion® (VRW10)

Medium Grain

Average 10 µm

Low carbon steel
Coated steel
Aluminum
Copper with lower surface finish requirement

Versimax®

Coarse Grain

Average 20 µm

Bunching
Stranding
Wear application
Compacting
High pressure
High temperature
Your Hyperion salesperson can offer their expertise in selecting the wire die product best suited to solve your needs.