Bevel Knife Blanks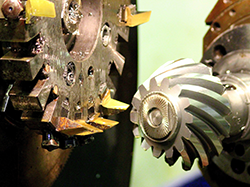 Type: Bevel Knife Blank
Dimensions: as per drawing/requested
Description: Bevel style blanks manufactured to custom dimensions in accordance with agreed solution. Cemented carbide grades and designs are tailored to each customer based on individual needs and requirements.
Bevel knife blanks for gear milling applications
Hyperion Materials & Technologies manufactures solid cemented carbide custom bevel knife blanks to customer supplied specifications.
Your Hyperion salesperson can offer their expertise in selecting the bevel knife blank and cemented carbide best suited to solve your needs.
Did you know you can recycle your cemented carbide with Hyperion? Visit our recycling page or contact us for details.