New DuraNib™ - Expands Wire Drawing Offering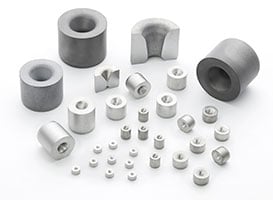 Hyperion Code: DuraNib™
Wire Material: Various
Description: Self-supported die blanks manufactured from our patented cobalt-free cemented carbide. All dies are made to order.
We are excited to introduce DuraNib™, a specialized cemented carbide grade that expands our comprehensive line of wire drawing solutions. DuraNib is a patented cobalt-free cemented carbide that exhibits improved hardness at high temperatures and resistance to galling. These characteristics make DuraNib an ideal choice for processing nonferrous wire.
Another benefit of using cobalt-free DuraNib is that it is a great solution for companies that want to eliminate cobalt exposure for employees and the environment.
Contact us to learn more about the benefits of DuraNib.