Hyperion launches new polycrystalline diamond (PCD) grade that excels in machining nonferrous materials
Oct 15, 2020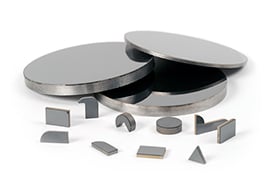 WORTHINGTON, Ohio — Hyperion Materials & Technologies, a U.S.-based global leader in engineering and manufacturing advanced materials, recently introduced Compax2.0™ SE (Superior Edge), which is the company's newest grade of high-performance polycrystalline diamond (PCD) ideal for machining nonferrous materials such as aluminum, titanium alloys and graphite.
With nearly 70 years of experience developing cemented carbide, industrial diamond and cubic boron nitride (CBN) products used in many industries and applications, Hyperion developed Compax2.0 SE to specifically meet the needs of customers that require a PCD that excels in applications where an extra sharp edge with superior toughness is critical.
Ken Grieshop, manager of Hyperion's PCD and polycrystalline cubic boron nitride (PCBN) product lines, said the company's materials experts engineered the fine-grain PCD to have an average grain size of 0.8 micrometers and a diamond volume of 92 percent.
"Combined with Hyperion's uniform diamond distribution and enhanced diamond-to-diamond bonding, Compax2.0 SE exhibits properties that result in a multitude of benefits, including a PCD that retains a sharp cutting edge, makes clean cuts that leave behind a mirror finish and meets high expectations consistently," he said.
Grieshop explained these unique properties allow Compax2.0 SE to excel in many of today's high-demand manufacturing applications, including milling aluminum and machining titanium alloys found in cylinder heads, engine blocks and wheels in automobiles; phones, tablets and other electronics; and electric commutator motors. He said Compax2.0 SE also is an ideal solution for machining graphite.
Hyperion currently produces Compax2.0 SE in 58-millimeter diameter round tool blanks with multiple diamond layer thickness. Hyperion also provides value-added services, including precision laser cutting and deep application knowledge and material testing at its main diamond production facility in Worthington.
"Continuous improvement and commercial excellence are foundational elements of our company," Grieshop said. "We are always developing and perfecting materials that position our customers to win."
Compax2.0 SE is Hyperion's latest product in its extensive portfolio of advanced materials, including PCD and PCBN blanks, cut shapes and round tools for metal cutting applications. While only an independent company for a little more than two years, Hyperion possesses a rich legacy that is rooted in pioneering research and development and born out of GE, Diamond Innovations and Sandvik. Specifically, Hyperion is the legacy holder of the groundbreaking research performed at GE that developed the first synthetic diamond and PCD materials.
Contact us or visit the Compax® PCD page for more details.