cBNMesh Resin Bond Systems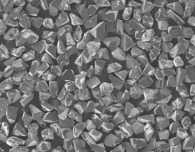 Hyperion code: cBN R2/R82/G3/K8
Grading: Mesh/FEPA
Description: CBN crystals combined with resin bonds enhance the tool's performance on the material. It is often used for grinding wheels and on tools of ferrous materials, carbide, ceramics, and quartz.
cBNMesh Resin Bonds is abrasive surface bonds fabricated by hot pressing which enhances the tool's performance on the material. Resin bonds provide tools with a good surface finish and free cutting performance because resin bonds encourage self-sharpening. Materials vary widely in density, hardness, and abrasiveness, making selecting the correct resin bond formulation critical.
CBN (Cubic Boron Nitride) materials in combination with resin bonds are often used for grinding wheels and tools of ferrous materials, carbide, ceramics, and quartz. We mix our CBN crystals in a liquid form to develop three distinct crystalline structures that make distinct cBNMesh Resin bond tools:
Mono-crystalline structures are blocky, faceted crystals with low surface roughness, low ellipticity, and high toughness index. The cubic boron nitride crystals give a longer tool life and limit-free cutting, which results in higher power consumption and a stronger workpiece in some workpiece applications.
Multi-crystalline structures are inter-grown/twinned faceted crystals with a higher ellipticity than mono-crystalline structures. These CBN resin bonds have a lower toughness index and help provide tools with a lower life with free cutting and produce a lower resin surface than mono-crystalline structures.
Less clearly faceted crystals characterize porous structures with high surface roughness produced by holes, cracks, and fractures on and within the crystals. With high ellipticity and low toughness index, these CBN crystals give a tool-free cutting for a low workpiece and provide a low power consumption, particularly in creep feed grinding applications of tungsten carbide.
At Hyperion Materials & Technologies, we develop and supply our cBNMesh offering to cover a variety of tool applications with a wide range of sizes and strengths. The cBNMesh range incorporates a variety of shapes, each tailored to suit a particular application. The color of the CBN particles is a function of the synthesis process and the raw materials used.
cBN R2
cBN R2 is a black and friable product with a regular shape, specially designed for resin bond tools, providing free cutting and controlled wear of the wheel.
cBN R82
cBN R82 is a black, regular-shaped, medium toughness option designed for resin bond tools.
cBN G3
cBN G3 is an amber cubo-octahedral, regular-shaped, semi-friable option that is preferable to high-strength alternatives for touch dressing applications with single-layer tools.
cBN K8
cBN K8 is a cola colored, angular-shaped, strong option that is preferable with high material removal rates.
This product line is an expansion of our Hyperion Materials & Technologies Ireland offerings helping you find the right fit for your tool application. Contact your local Hyperion salesperson for expertise in selecting the mesh CBN best suited to solve your needs.
Hyperion also manufactures a range of micron CBN powders and micron diamond powders as well as high quality mesh diamonds.