Ultra Premium Micron Diamond Powder
Hyperion Code: UPM
Description: Synthetic ultra premium micron diamond powder is designed for processes where a precise size range and consistency are key. Designed for exceptional performance when back-grinding, dicing, and other precision machining of silicon and semiconductor wafers.
Hyperion Materials & Technologies is introducing our ultra premium micron (UPM) diamond powder. This synthetic diamond powder was developed in collaboration with customers where precision and consistency are critical. By expanding on our already advanced manufacturing capabilities, we have been able to take our already narrow diamond size distributions and make them even narrower. UPM gives you superior reproducibility. In addition to the well-controlled particle size distributions, UPM powders have the lowest level of oversize particles of any diamond powders available in the market.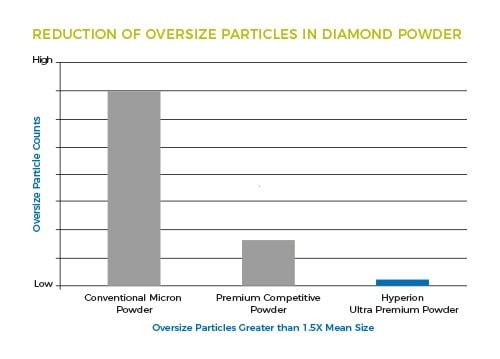 This added precision allows semiconductor manufacturers to use thinner dicing blades to cut wafers, resulting in less chipping and material loss, which ultimately produces a higher yield of computer components from each wafer. Back-grinding wheels made with UPM diamond powder result in wafers with less scratching and superior surface finishes.
Hyperion's UPM diamond powder exhibits the most tightly controlled size, shape, and surface properties in the industry. This ultra premium product is derived from synthesized monocrystalline diamond. It is grown under conditions that create tough, uniform crystals that resist fracturing and have excellent impact resistance. In addition to our standard size offering, the UPM powders can be made to custom specifications based on customer requirements.
Your Hyperion salesperson can offer their expertise in selecting the micron diamond powder best suited to solve your needs.