Solid Tungsten Carbide Rings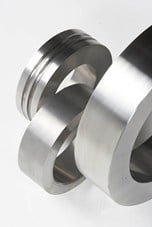 Hyperion Code: Solid Rings
Grades: See grade data
Description: Solid tungsten carbide rings.
Hyperion Materials & Technologies manufactures tungsten carbide rings for finishing blocks or to be mounted in rolls for use in intermediate, pre-finishing, and finishing stands.
Our rings provide excellent quality on the rolled material and minimize the downtime.
Hyperion's product specialists can assist with advice and knowledge on the cemented carbide grades for the rings, machining data, handling of rolls, and evaluation of roll performance. Our expert personnel are available to partner with you to improve your productivity.
Did you know you can recycle your cemented carbide with Hyperion? Visit our recycling page or contact us for details.