Carbide Rods Portfolio
Combining AFC Hartmetall and Sinter Sud with Hyperion Materials & Technologies means you have a provider that can provide you a complete carbide rod blanks portfolio not only when you need them but where you need them.
Hyperion Materials & Technologies, AFC Hartmetall, and Sinter Sud stand for:
Stable, secure supply chain
Tool makers and machine shops are working to control their inventory and want items delivered to them on time. It is more important now than ever before. You also need a stable supply of carbide rods, and to ensure we can deliver that, we control our entire manufacturing process, from powder to production by:
Securing our raw materials from stable, global sources
Manufacturing our own ready-to-press powders in the United States and France
Manufacturing our carbide rod blanks in Germany, Italy, U.S., and Mexico
Supplying our products through a network of distribution centers around the world, including four major sites in the U.S. and Europe.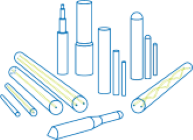 Complete product portfolio
We manufacture a wide range of superior cemented tungsten carbide grades. From these carbide grades, we produce a wide range of solid rods and rods with coolant holes (central, parallel, and helical holes set at a variety of angles), as well as preforms and specialty blanks. Our unique product portfolio is designed to increase your performance.
Learn more about our carbide grade series here.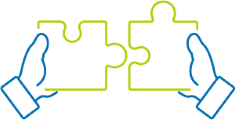 Partner, never a competitor
We are not a toolmaker. We leave that to you, and we are proud to be a valued partner with our customers to solve the problems you face, together. This means you do not support your competitors by buying their blanks nor do you share your drawings with them.
Want to learn more?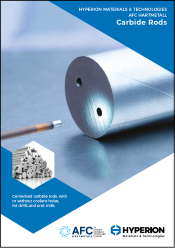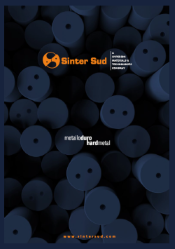 or create an account for our webportal to order carbide rods online.
ABOUT OUR CARBIDE RODS FAMILY:
Hyperion Materials & Technologies, Inc.
Hyperion Materials & Technologies is a global leader in hard and super-hard materials with more than 60 years of experience in cemented carbide, diamond, and cubic boron nitride technologies. With about 1,900 employees, Hyperion has its production footprint in North and South America, Europe, and Asia and sales in more than 70 countries.
AFC Hartmetall
AFC Hartmetall is a global solutions provider of premium cemented carbide rod blanks used in the manufacture of high precision rotary cutting tools for drilling and milling applications. AFC, based in Mainleus, Germany, is a world leader in manufacturing carbide rods with coolant channels. For more information, visit www.AFCarbide.com.
Sinter Sud
Sinter Sud, located in Sant'Agata Dè Goti (BN), Italy, has provided customers with a wide range of quality carbide products for more than 40 years. Sinter Sud is a global provider of cemented carbide rods used in manufacturing rotary cutting tools for metal and wood working. Please visit www.SinterSud.com to learn more about their solid and coolant channel carbide rod blanks.