Grade K10F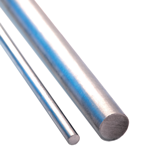 Description: Grade K10F Carbide Blanks and Strips
Hyperion's grade K10F tungsten carbide is a 10% cobalt grade that is suitable for a wide range of milling, boring, and drilling applications in metalworking, woodworking, and synthetic materials molding.
The perfect balance of performance and value:
Tungsten Carbide Grade K10F
Some of the benefits are:
Can deliver 21% increase in tool life in accelerated slot milling of superalloys
Offers a unique balance of hardness and rupture strength
Provides the perfect combination of reliable quality and value
Short delivery times due to our large stock in our warehouse in the USA
Showed excellent diamond coating adhesion results in external test. Learn more here.
Applications and Industries
Thanks to a great balance of hardness and rupture strength, grade K10F carbide blanks can be used for a broad field of applications such as milling, boring, and drilling in many industries, including the automotive, general machining, and woodworking industries.
Our product offering in grade K10F
Grade K10F Carbide Blanks and Strips

Size Options

DIN

Other Features

Solid rod blank

1 – 45 mm diameter

330 mm length

-

2 – 32 mm diameter

Cut to length

DIN sizes

Optional with chamfer

Range of metric and imperial sizes

-

With chamfer

Coolant rod blank

4 – 36 mm diameter

-

1 central hole

6 – 36 mm diameter

-

2 parallel holes

Reamer blank

4 – 22 mm diameter

DIN 332/A

Burr blank

DIN 8033

Unground square and rectangular strips

335 mm length

-
You can download here the Carbide Rod Grade K10F leaflet:
Did you know you can recycle your cemented carbide with Hyperion? Visit our recycling page or contact us for details.