Cemented Carbide Insert Blanks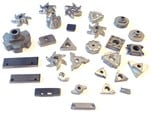 Hyperion Code: n/a
Description: Cemented carbide insert blanks are the basic building blocks of cemented carbide cutting tools, made of a mixture of tungsten carbide (WC) and cobalt (Co), which are sintered together at high temperatures. The tungsten carbide provides hardness and wear resistance, while the cobalt acts as a binder and gives the blanks their toughness. Hyperion Materials & Technologies provides preformed cemented carbide insert blanks tailored to each customer's unique design. We offer three finishing options: as-sintered, top face and bottom face (T&B) ground, and T&B and periphery ground.
Cemented carbide insert blanks are available in a variety of shapes and sizes, and they can be coated with different materials to improve their performance in specific applications. They are used in a wide range of cutting tools, including drills, saws, milling cutters, and turning tools. They offer a unique combination of high hardness, toughness, wear resistance, excellent thermal conductivity, and chemical inertness.
We offer preformed cemented carbide insert blanks that can be customized and machined to the desired shape and size of the tool through computer-controlled milling machines. With state-of-the-art pressing and sintering technology, Hyperion can manufacture simple 2D insert blanks and a full range of premium 3D custom-made, near-net-shape insert blanks in cemented tungsten carbide.
Through advanced manufacturing technology, we can offer a wide range of geometries with a variety of ground finishes as an option (top face and bottom face (T&B) ground and T&B and periphery ground). We also offer Chemical Vapor Deposition (CVD) and Physical Vapor Deposition (PVD) coatings to enhance the performance of the finished tool and extend its lifespan.
Our portfolio includes a comprehensive selection of cemented carbide grades qualified with various coatings and available in the industry for different applications.
ADVANCED PRODUCT OFFERING
Complex 3D & 2D geometries
Near-net shapes
Comprehensive cemented carbide grade offering
World-class quality control
As pressed or finished ground
Multi-axial cross-hole capabilities.

CUSTOMER VALUE
Hyperion develops specialized cemented carbide grades from which we manufacture insert and head blanks that improve your productivity and throughput. We use optimized manufacturing methods to ensure the highest quality. Hyperion provides near-net-shape insert blanks that allow customers to eliminate or reduce finishing operations, saving you time and expense while supporting you with a global sales and technical support network. Hyperion provides:
Proven standard cemented carbide grades
Premium cemented carbide and specialized grades for your unique needs
Manufacturing methods optimized to provide exceptional dimensional control (tolerance and finish)
A secure supply chain by manufacturing in the Americas, Asia, and Europe.
A Hyperion product specialist can help you determine which product, grade, and finish will satisfy your metal cutting needs.
Did you know you can recycle your cemented carbide with Hyperion? Visit our recycling page or contact us for details.