Grade Selection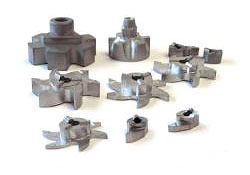 Hyperion Materials & Technologies manufactures a comprehensive selection of cemented carbide grades for a wide range of metal cutting applications. These carbide grades were developed to provide a full range of premium custom-made, near-net-shape, insert blanks for your application needs.
Applications Overview

| | |
| --- | --- |
| Hyperion Grades | Applications |
| H10F | Benchmark cemented carbide grade that meets many application needs. Provides leading consistency and reliability in almost any application. Optimize with coatings and edge preparations for different applications in ISO P, M, K N, S 10-30 range. Excellent in thread turning and thread milling |
| AM50 | Carbide grade with increased hardness with maintained good toughness. Optimized performance in hardened steel |
| MK10 | High speed turning and threading carbide grade. High edge strength at elevated temperatures |
| DM80 | Carbide grade with improved reliability in difficult applications. Promising performance in difficult to machine materials such as duplex stainless steel |
| H11N | Economy carbide grade for shim seats/anvils for high strength and rigidity and as a carrier for PCD and PCBN tips |
| AM70 | Carbide grade providing improved reliability in difficult applications. Optimized solution for milling ISO M materials like titanium alloys and duplex stainless steel |
| MP40 | Reliable, traditional carbide grade for ISO P materials |
Primary Application Areas

Sub Application Areas

Threading
Parting
Grooving
Reaming
A Hyperion product specialist is always available to help you with details about grades, lead times, and geometries for your application. They are also able to provide you with information about cermet insert blanks.
Did you know you can recycling your cemented carbide with Hyperion? Visit our recycling page or contact us for details.