Erosion & Corrosion Resistant Components
Type: Complex Geometry Custom-Designed Components
Dimensions: as per drawing/requested
Description: Intricate shaped components manufactured in cemented carbide and/or diamond materials with complex geometrical profiles that provide high level of performance for your next generation RSS drilling through tighter curves in horizontal directional drilling.
Hyperion Materials & Technologies manufactures custom designed components in advanced cemented carbide grades and/or diamond materials. These components go through carefully designed process steps that involve certain intricate geometrical features machined prior to sintering while the tight tolerance features are machined after sintering.
These component material grades are selected from our premium offering that offer the best of both worlds (erosion and corrosion resistance) and are produced to stringent quality requirements ready for assembly in your downhole tools.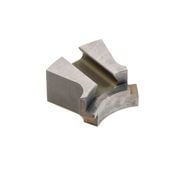 The performance of these components is proven in various rotary steerable system (RSS) designs with improved steering and accuracy of borehole placement. Hyperion is continuously striving to offer components for best performance and reliability of your RSS tools for drilling from shoe to total depth in a single trip.
Your Hyperion salesperson can offer their expertise in selecting the products best suited to solve your needs.
Did you know you can recycle your cemented carbide with Hyperion? Visit our recycling page or contact us for details.
*Cemented carbide is also known as solid carbide and tungsten carbide (WC).