Tailor-made Solutions
Hyperion Materials & Technologies partners with its customers to develop solutions and manufactures precision tailor-made components and sub-assemblies* for your oil & gas producing needs:
Directional drilling
Completion tools
Pressure pumping
Well services.
Sub-assemblies are cemented carbide components usually joined with other materials including stainless steel, INCONEL®, titanium, and diamond that are finished and ready for direct assembly into customers' tools.
Precision components are made from high performance cemented carbide grades that are finished to tight tolerances.
Hyperion has successfully developed and manufactured precision components and sub-assemblies for rotary steerable systems (RSS), autonomous inflow control devices (AICDs), frac seats, valves, and well services.
A successful example of sub-assemblies is polycrystalline diamond (PCD) faced tungsten carbide valve and seat assemblies for advanced RSS systems. These enable our customer to deliver precision, speed, and accuracy that are essential for drilling longer laterals in a short amount of time and at optimum cost.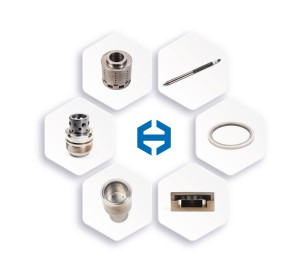 A broad range of application specific, high performance, tungsten carbide grades are available for design and development of precision components and sub-assemblies for the energy industries. Hyperion can partner with its customers and offer a unique platform for rapid prototyping, testing, and industrialization of new products. Our customers need not look for multiple vendors to develop components with different materials and processes as we provide a single window for a complete solution.
Your Hyperion salesperson can offer their expertise in selecting the product best suited to solve your needs.
*INCONEL is a registered trademark owned by Huntington Alloys Corporation in the US and elsewhere.