BZN 7300S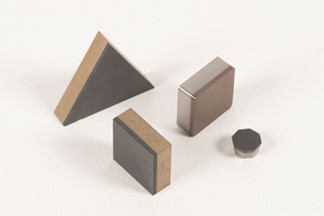 Type: Carbide-Supported Inserts
Number of Grades: 1
Description: Machine high alloy materials without the fear of premature edge fracture with tailored cBN composition designed for machining high chromium irons and steels.
Hyperion Materials & Technologies manufactures a complete line of high quality polycrystalline cubic boron nitride (PCBN) products for machining ferrous materials. BZN 7300S is a carbide-supported semi-finished inserts (EDM cut) and blanks used for machining high chromium irons and steels.
7300S is a chemically wear resistant material with facture toughness that allows it to perform in difficult-to-machine applications. It is able to complete long cutting lengths with aggressive depths of cut, which is critical on large work pieces such as slurry pump housings and impellers. 7300S delivers maximum productivity in specific applications, including:
White iron
Chilled cast iron
Grey cast iron
High speed steels
High chromium iron
Bearing steels
And roughing and finishing of high strength steel components
Discover the full product range of Hyperion's semi-inserts PCBN portfolio.
Benefits of Solid PCBN BZN Compacts

Applications
Characteristic
CBN Content (%)
Applications
BZN 7300S

- Optimized particle distribution for optimal performance

- High abrasive wear resistance

- Heat and chemical wear resistance

- Excellent impact toughness

- Performance achieved at higher speeds

75%

- High chrome and Ni iron alloys (white iron)

- Turning of steel rolls

- Impellers & slurry pump machining

- Depths of cut up to 5 mm

BZN 7000S

- High fracture toughness

- Excellent wear resistance and chemical stability

- Tight dimensional control

- Consistent surface finishes

~85%

- Ni-hard cast iron

- Hard cast iron, cylinder liners

- High chrome alloy steels

- Powder metal alloys

- Pearlitic gray cast iron

- Brake rotors/disks

- Depths of cut up to 4 mm

BZN 7400S

- Tailored particle distribution for higher cutting speeds

- High fracture toughness

- Excellent wear resistance and chemical stability

- Tight dimensional control

- Consistent surface finishes

- Superior thermal conductivity

~88%

- Ni-hard cast iron

- Hard cast iron, cylinder liners

- High chrome alloy steels

- Powder metal alloys

- Pearlitic gray cast iron

- Brake rotors/disks

- Depths of cut up to 4 mm