PCBN Overview
Hyperion Materials & Technologies manufactures a complete line of high quality polycrystalline cubic boron nitride (PCBN) products. BZN® Compacts consist of the finest Borazon® CBN particles sintered and integrally bonded to a cemented tungsten carbide substrate or produced as solid PCBN products.
The products are designed to deliver maximum productivity in specific applications. BZN Compacts excel on cast irons, hardened steel, powdered metal, hard facing alloys, and superalloys. They are commonly used in the automotive, aerospace, heavy machining, die and mold, and medical industries.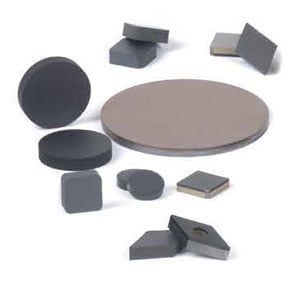 BZN Compacts tool blanks and inserts are supplied in tungsten carbide-supported and solid PCBN forms. This product line is designed to provide significantly increased tool life, consistent surface finish, and dimensional control. As a result, overall part costs and savings in the total manufacturing operation are achieved. You will find significant gains in productivity by using BZN Compacts for your ferrous material machining requirements. BZN Compacts tool blanks and inserts are available in a wide range of shapes, sizes, and carbide grades for fabrication into finished high-performance tools.
Product Selection Chart

Pearlitic Gray Iron

BZN 6000

BZN 9100

BZN 9500

BZN 7000S

BZN 7400S

Ductile Iron

BZN 9000

BZN V20

Hard Cast iron

BZN 9500

BZN 9100

Hardened Steel

BZN HPT130

BZN HPT135

BZN V20

BZN V25

BZN V35

BZN 9500

BZN 7300S

Sintered Powder Metal Iron

BZN 6000

BZN 9500

BZN 9100

BZN 9000

BZN PM93

BZN PM161

BZN V25

BZN V35

Superalloys

BZN 6000

White Iron

BZN 7300S
Polycrystalline CBN products:
Your Hyperion salesperson can offer their expertise in selecting the PCBN product best suited to solve your needs.