Knife, Anvil, and Slitter Inserts by Crafts Technology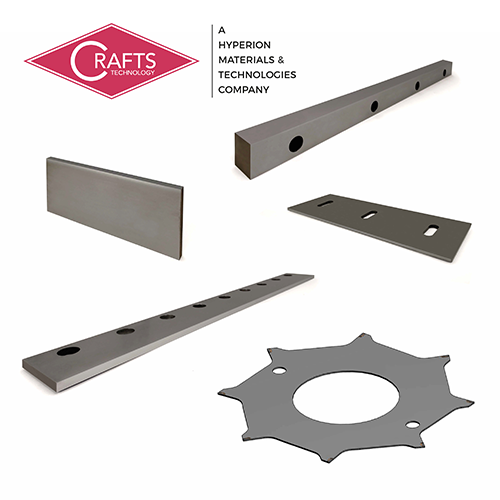 Precision manufacturer develops high-performance cutting components that complement and expand Hyperion portfolio.
As part of the Hyperion Materials & Technologies family of companies, Crafts Technology expands our broad portfolio of high-performance rotary cutting solutions, making us a one-stop shop for those in need of engineering support and reliable components that reduce equipment downtime.
For converting line applications used to produce a wide range of hygiene, personal care, medical, automotive, aerospace, and packaging products, Crafts manufactures and refurbishes a collection of custom tungsten carbide cutting implements including:
Flat knives
Anvils
Slitters / slitter blades
Hammer mill rotors / crusher dies
These converting line components differ from the rotary cutting units and extensions developed by Hyperion and are used in different stages of the production process, allowing us to work together to offer you greater value.
So, whether you are designing new solutions or need replacement parts, we can help.
Download Crafts' brochure under the PDF & Video Downloads for more detailed product information and use the form at the right on this page to schedule a one-on-one consultation with our cutting technology experts.
Contact us today to connect with our cutting technology experts.