A-Flex Rotary Cutting Technology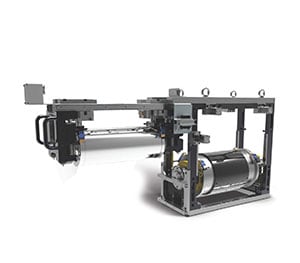 Type: A-Flex
Dimensions: as per drawing/requested
Description: A-Flex rotary cutting technology allows customers to quickly replace the anvil without disassembling the rotary cutter unit from the line. This solution reduces downtime and optimizes the need for spare parts, thus generating savings.
Main Features
Benefits

Quick anvil change system
Control from operator side only
User-friendly locking/unlocking and sliding tray
No need to remove the frame from the line

Up to 80% time saving for anvil change
Higher productivity through reduced machine downtime
Higher conversion efficiency through lower waste after machine re-start
Optimization of the spare part needs
Your Hyperion salesperson can help you select the rotary cutter solution best suited to solve your needs.