Band Saw Tips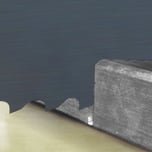 Hyperion Code: BLP / BC
Dimensions: Metric
Description: Standard saw tips designed for use in the manufacturing of cemented carbide-tipped band saw blades. Our saw tips cover the most popular used dimensions, supplied in ball or cylinder form.
Hyperion Materials & Technologies manufactures cemented carbide saw tips designed for carbide-tipped band saw blades. Our band saw products can be supplied in ball and cylinder form.
Key factors in producing a high quality saw blade:
Steel blade body
Cemented carbide grade selection based on cutting conditions
Welding and grinding quality
Geometry of saw tooth
Coating of finished blade for specific applications.
Ball
Saw Tip Type
Diameter (mm)
Diameter (inch)
Standard Cemented Carbide Grades

BLP


1.70
1.83
2.00
2.35
3.00


0.067
0.072
0.079
0.093
0.118


H10F
H6F

Cylinder
Saw Tip Type
Diameter
Length
Standard Cemented Carbide Grades
mm
inch
mm
inch
BC
1.32
1.60
1.98
0.052
0.063
0.078
2.50
2.16
2.67
0.098
0.085
0.105
H10F
H6F

Please indicate if coating is required using cobalt or nickel as appropriate.

Surface treatment industry standard: 5 µm +/- 2 µm, 9 µm +/- 3 µm.
Your Hyperion salesperson can offer their expertise in selecting the saw tip best suited to solve your needs.