Nib Blanks - ISO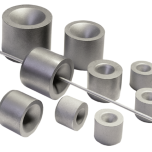 Hyperion Code: WDINR
Dimensions: Metric
Description: Tungsten carbide drawing nibs (blanks) manufactured to support fabrication to ISO 1684.
Available Dimensions
Hyperion Materials & Technologies manufactures ISO cemented tungsten carbide drawing nibs that are known for their impeccable geometry and unique and consistent grade composition. We offer not only a wide range of standard dimensions but also a superior quality in special designs.
ISO nibs for wire drawing dies of soft and hard materials come in the following dimensions:

d2 x h2 (mm)
10 x 8
12 x 10
14 x 12
16 x 13
20 x 17
For a full listing of Hyperion ISO nibs, please see our Carbide Nibs for Wire Drawing brochure under the PDF Downloads. Outer diameters can be sintered or ground, and a range of cemented carbides and sizes are available.
The table below presents an overview of our cemented carbides for wire drawing.