Diamond Composite Advantages
Hyperion Materials & Technologies manufactures Versirion®, a revolutionary silicon carbide and polycrystalline diamond (PCD) composite with increased wear property and thermal stability. Versirion is made by a state-of-the-art high-pressure high-temperature process and is based on the Versimax® composite developed for wire drawing and wear applications.
Versirion and Versimax exhibit superior wear resistance, high temperature performance, and high strength approaching that of cobalt-sintered PCD, with the addition of superior thermal stability. Versirion exhibits the most superior corrosion resistance.
VERSIRION® AND VERSIMAX® PRODUCT OFFERING

Grade
Average Grain Size
Applications
Versirion® (VRW5)

Fine Grain

Average 5 µm

Low carbon steel
Tire cord
Aluminum
Copper with higher surface finish requirement

Versirion® (VRW10)

Medium Grain

Average 10 µm

Low carbon steel
Coated steel
Aluminum
Copper with lower surface finish requirement

Versimax®

Coarse Grain

Average 20 µm

Bunching
Stranding
Wear application
Compacting
High pressure
High temperature
Applications Matrix
Bunching
Compacting
Drawing

Extrusion

Stranding

Wear applications
Main Advantages
Superior thermal stability compared to that of PCD
Significantly reduced coefficient of thermal expansion (CTE) mismatch
Thermally stable up to 1400°C, which creates less risk of failures during application
Easy to process:

Electrically conductive: EDM processability allows flexibility in cutting various geometries
Sizes larger than those of unsupported PCD: diameter - 35 mm, height - 35 mm
Does not require polishing of the bore to achieve the surface finish of the wire
Ability to be easily brazed or shrink fitted into casing

Versatility: ferrous and nonferrous wires
Wear resistance comparable to that of PCD and corrosion resistance slightly better than that of PCD.
Material Propery Test Data
Strength retained after thermal exposure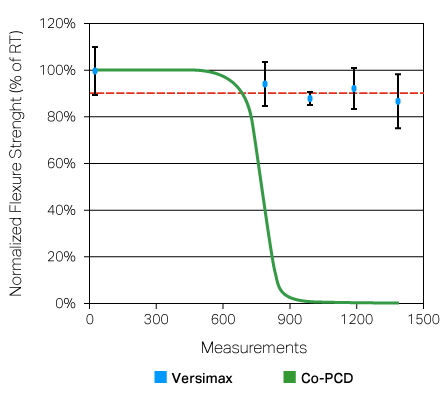 G-ratio when wet milling granite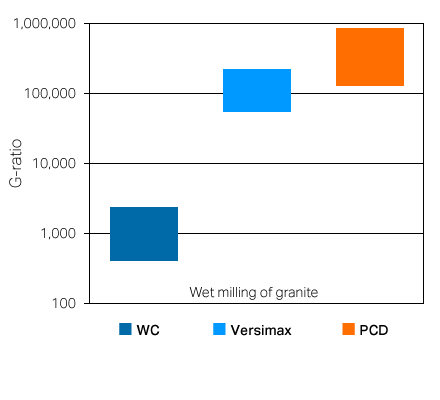 Weight loss at grit blasting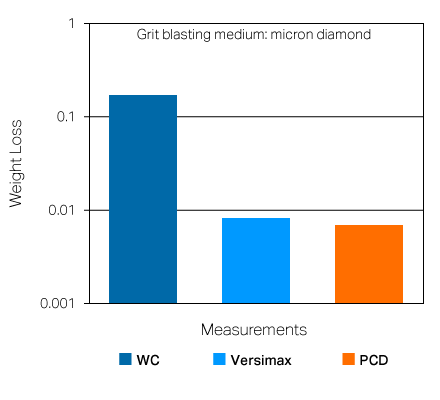 Your Hyperion salesperson can offer their expertise in selecting the wire die product best suited to solve your needs.
In addition, Versimax is ideally suited for demanding nozzle wear applications.
*PCD is manufactured from man-made (synthetic) diamond.