Versimax® HPHT Tools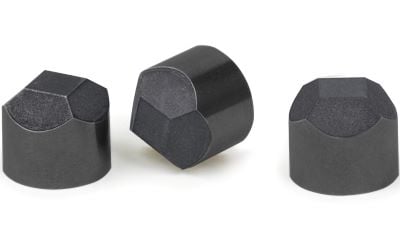 Hyperion Code: n/a
Dimensions: as per drawing/requested
Description: Versimax® HPHT cubes are available in 4 sizes while tetrahedral anvils are manufactured to custom dimensions in accordance with agreed solution. Grades and designs are tailored to each customer based on individal needs and requirements.
Versimax®
Hyperion Materials & Technologies manufactures Versimax, a revolutionary silicon carbide diamond composite material made by a state-of-the-art high pressure high temperature process. We partner with our customers to improve performance and develop solutions for their HPHT applications.
PRODUCTS
APPLICATIONS

• Cubes

• Anvils

• HPHT research
BENEFITS
• Superior pressure generation in comparison to cemented tungsten carbide tools
• Superior thermal stability
• High thermal conductivity
• Electrically conductive
• Flexible geometries
• Transparent to X-rays.
SIZES

Standard sizes and customized specifications are available upon request.
Versimax is available in a range of sizes including 10, 12, 14, and 25 mm cubes. Cubes are provided with and without truncations as per customers request.
Tetrahedral anvils are tailor-made to customers requirement of size and geometry and are limited to 35 mm X 35 mm cylinder.
Hyperion also manufactures cemented carbide HPHT tools.
Your Hyperion salesperson can offer their expertise in selecting the HPHT tool best suited to solve your needs.