PolyMic Diamond Powders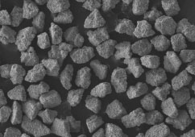 Description: The detonation process manufactures polycrystalline micron diamond powders and uniquely improves surface finish with no sub-surface damage. Available in size range of 0-0.2 to 6-12 microns.
PolyMic diamond powders is a polycrystalline micron diamond manufactured by the detonation process, and we are one of the few companies in the world to offer the PolyMic range in our portfolio. This unique product breaks down readily during use, providing increased productivity and an improved surface finish with no sub-surface damage. It is available in the size range 0-0.2 to 6-12 micron.
The production cycle for the PolyMic diamond powder involves a series of discrete processes:
Detonation synthesis

Wet chemical purification

Hydration, de-agglomeration, cleaning, washing

Splitting, grading, sizing, and segregation: high speed centrifugation for sizes below 2 micron and sedimentation for sizes above.

Drying and crushing (where necessary).
Each batch is put through a rigorous QC process, involving
Element analysis

SEM – Particle morphology and shape

X-Ray diffraction – Diamond content

Specific surface area – Purity and size

Particle size distribution – Size quantification

Density – Diamond content & purity

Conductivity – Surface purity.
Examples of processing applications include:
R, A, and C plane sapphire

Silicon carbide

Calcium fluoride

Silicon nitride

Zinc sellenide.
This product line is an expansion of our Hyperion Materials & Technologies Ireland offerings helping you find the right fit for your tool application. Contact your local Hyperion salesperson for expertise in selecting the micron diamond best suited to solve your needs.
Hyperion also manufactures a range of CBN Mesh, micron CBN Powders, and high-quality mesh diamonds.