RVG® Diamond High Friability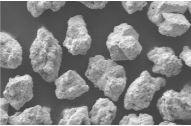 Hyperion Series: RVG 810/800
Number of products: 5
Description: Standard grade mesh synthetic diamonds designed for carbide, PCD, ceramic, and CERMET grinding.
Hyperion Materials & Technologies manufactures the RVG 810 and RVG 800 series diamonds that are highly friable crystals. These diamonds are available as uncoated or coated. Additional information is provided below:
RVG® 810 Series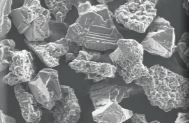 RVG® 810 Diamond
Uncoated
RVG 810 diamond is ideal for high precision grinding in demanding materials with stringent quality requirements. RVG 810 diamond is extremely effective where wheel life and/or form retention are critical.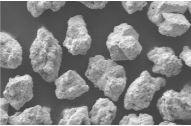 RVG® 810D Diamond
Copper-based alloy coating [coating level 50 wt %]
RVG 810D diamond is a highly friable crystal with Cu coating for ideal performance in dry phenolic or wet polyimide grinding of carbides and polycrystalline diamond (PCD).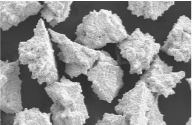 RVG® 890 Diamond
Nickel-based alloy coating [coating level 56 wt %]
RVG 890 diamond is the most productive crystal in the RVG diamond family. It boasts excellent free cutting characteristics and controlled micro fracturing mode while providing superior surface finishes. RVG 890 diamond is unparalleled in part-to-part consistency when it comes to technical ceramics, CERMETS, and new hard-to-grind materials.
RVG® 800 Series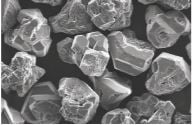 RVG® 800 Diamond
Uncoated
RVG 800 diamond offers superior free cutting capabilities due to the controlled microfracturing of the crystals. It is suitable for applications with demanding tolerance requirements. Consistent finishes and accurate geometries are achieved in grinding of tungsten carbides, new materials, CERMETS, and technical ceramics.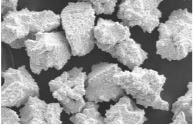 RVG® 880 Diamond
Nickel-based alloy coating [coating level 56 wt %]
RVG 880 diamond offers even more improved free cutting and fracture characteristics, provides extended wheel life, and requires low grinding power. Textured coating enhances crystal retention while extracting heat from the grinding interface. This diamond is highly suitable for wet grinding of cemented carbide and ceramic workpieces.
Your Hyperion salesperson can offer their expertise in selecting the man-made or synthetic RVG diamond and coating best suited to solve your needs. Hyperion also manufactures synthetic RVG diamonds with
Hyperion also manufactures MBG Diamonds for glass applications and MBS Diamonds for sawing and drilling applications as well as high quality micron diamonds.