RVG® Diamond High Toughness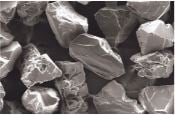 Hyperion Series: CSG and RB
Number of products: 5
Description: Standard grade mesh synthetic diamonds designed for carbide, PCD, and heavy duty grinding.
Hyperion Materials & Technologies manufactures the very tough CSG and RB series diamonds. These diamonds are available as uncoated or coated. Additional information is provided below:
RVG® CSG Series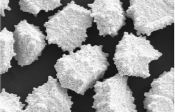 RVG® CSG-II® Diamond
Nickel-based alloy coating [coating level 55 wt %]
This very tough diamond reduces wheel loading and minimizes workpiece burn when grinding tungsten carbide/steel combinations. Due to its toughness and impact resistance, RVG CSG-II diamond is highly recommended for heavy duty grinding and applications with interrupted cut.
RVG® RB Series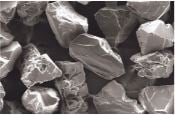 RVG® RB-I Diamond
Uncoated
RVG® RB-I diamond is best suited for applications where free cutting capabilities, low cutting forces, and thermal stability are required. Tungsten carbide and polycrystalline diamond (PCD) grinding are excellent matches for this diamond.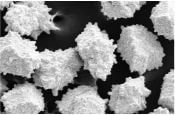 RVG® RB-II Diamond
Nickel-based alloy coating [coating level 56 wt %]
This blocky crystal form provides long tool life in applications where high material removal rates in hard-to-grind materials are a priority. Very good results are delivered in applications that sustain interrupted cuts. RVG RB-II diamond is recommended for tungsten carbide and PCD grinding.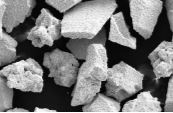 RVG® RB-II 30 Diamond
Nickel-based alloy coating [coating level 30 wt %]
This diamond is similar to RB-II diamond but has a lower coating level. RVG RB-II 30 diamond provides lower grinding energy and heat and is ideal where a balance of wheel life and grinding energy is critical.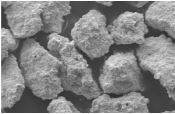 RVG® RB-D Diamond
Copper-based alloy coating [coating level 50 wt %]
RVG RB-D diamond is a blocky crystal with a copper coating applied, which provides excellent performance in dry grinding or wet polyimide, tungsten carbide, and PCD grinding.
Your Hyperion salesperson can offer their expertise in selecting the man-made or synthetic RVG diamond and coating best suited to solve your needs. Hyperion also manufactures synthetic RVG diamonds with
Hyperion also manufactures MBG Diamonds for glass applications and MBS Diamonds for sawing and drilling applications as well as high quality micron diamonds.