Carbide Coolant Blanks - Central Hole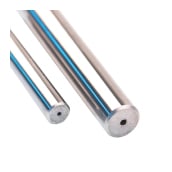 Dimensions: Metric or Imperial
Description: Cemented tungsten carbide coolant blank with central hole. Options on carbide grade, rod diameter, coolant hole diameter, length, finish, and chamfer.
Central Coolant Hole - Carbide Rods
Your Hyperion salesperson is available to offer their expertise in selecting the high performance or application specific cemented carbide rod best suited to solve your needs. We offer both standard stock rods and rods customized to position you to win.
Available Cemented Carbide Grades

| Carbide Grade | Stocked | Grade Description |
| --- | --- | --- |
| H10F | Yes* | Grade H10F offers superior consistency from batch to batch in combination with excellent strength, toughness, wear resistance, and edge sharpness. |
| H6N | Yes* | Grade H6N is recommended for rotary tool applications in the C2 (ISO K20) range. It exhibits excellent performance when machining a wide range of materials. |
| H12F | Yes* | Grade H12F offers greater edge toughness in operations requiring superior edge security and reliability. |
*Contact your Hyperion salesperson for standard stock availability.
Did you know you can recycle your cemented carbide with Hyperion? Visit our recycling page or contact us for details.