Bevel Blade Blanks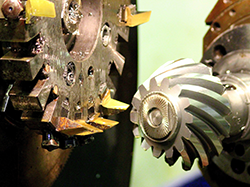 Type: Bevel Blade Blanks
Dimensions: as per drawing/requested
Description: Preformed bevel style blanks manufactured to custom dimensions in accordance with agreed solution. Cemented carbide grades and designs are tailored to each customer based on individual needs and requirements.
Hyperion Materials & Technologies manufactures customized cemented carbide bevel blade blanks for machining purposes, such as gear cutting, milling, and drilling. These customized blanks feature a cutting edge achieved through grinding or milling, enhancing hardness and wear resistance. The opposite side of the bevel blade blank is machined with a shank that is inserted into a tool holder.
Bevel stick blade blanks offer toolmakers several advantages, including:
Time and cost savings in the manufacturing process
Exceptional durability and longevity
Versatility for a wide range of applications
Consistent performance
Overall, bevel blade blanks are a preformed cost-effective and valuable asset in various machining applications, making it an excellent addition to any machine shop.
Your Hyperion salesperson can offer their expertise in selecting the bevel blade blanks and cemented carbide grades best suited to solve your needs.
Did you know you can recycle your cemented carbide with Hyperion? Visit our recycling page or contact us for details.