Corrosion Resistant Cemented Carbide
Background
Hyperion Materials & Technologies has over 60 years of experience in the development, manufacturing, and application of corrosion resistant cemented carbides. Conventional cobalt bonded cemented carbides can be used in many applications facing extreme wear or high mechanical stress, but they offer limited corrosion resistance in working conditions where there are severe abrasive or corrosive requirements. Generally, straight tungsten carbide-cobalt (WC-Co) grades are resistant to corrosion down to pH 7.
Wear Rates in Different pH Conditions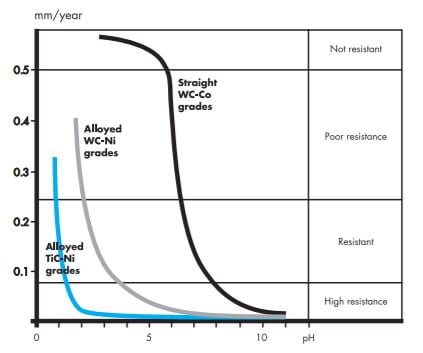 In most corrosion-wear resistance situations, nickel bonded cemented carbide (WC-Ni) grades that are resistant down to pH 2 to 3 are better choices. For applications with pH down to 1, alloyed TiC-Ni is a solution, but it is more brittle than WC-Co or WC-Ni grades.
Your Hyperion salesperson can offer their expertise in selecting the cemented carbide and wear part best suited to solve your needs.
Did you know you can recycle your cemented carbide with Hyperion? Visit our recycling page or contact us for details.