Material Handling Solutions
Hyperion Code: n/a
Dimensions: as per drawing/requested
Description: Cemented carbide components for process equipment manufactured to custom dimensions. Cemented carbide grades and designs are tailored to each customer based on individal needs and requirements.
Hyperion Materials & Technologies manufactures a wide assortment of cemented carbide tips components. Thanks to cemented carbide's high stiffness, carbide tips can retain size and shape without deformation helping to reduce maintenance downtime.
PRODUCTS
APPLICATIONS

• Tiles

• Looper tips

• Decanters

• Textile

• Agriculture
BENEFITS
• Reduced maintenance downtime where a long efficiency is required; for example, cutting related applications, due to high accuracies in sizes and shapes
• High accuracy on tolerances due to low thermal expansion coefficients
• Ready-to-braze components thanks to the wettability of cemented carbide.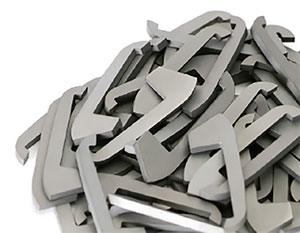 For some applications where component design or manufacturing is challenging, brazing tungsten carbide tips to a base material can be a perfect solution. The properties of Hyperion's carbides and our high manufacturing standards enable us to deliver tips with an outstanding brazing behavior. We can provide flat to preformed solutions to your component needs.
Hyperion delivers carbide tips for a diverse range of applications: textile industry, agriculture, and other industrial applications such as products milling.
Other engineered wear components manufactured by Hyperion include:
Your Hyperion salesperson can offer their expertise in selecting the cemented carbide and wear part best suited to solve your needs.
Did you know you can recycle your cemented carbide with Hyperion? Visit our recycling page or contact us for details.