Carbide Coolant Blanks - Central Hole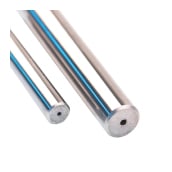 Hyperion Code: RM, RD
Dimensions: Metric or Imperial
Description: Cemented tungsten carbide coolant blank with central hole. Options on carbide grade, rod diameter, coolant hole diameter, length, finish, and chamfer. Now available in our new grade AM110 for machining superalloys!
Central Coolant Hole - Carbide Rods
Your Hyperion salesperson is available to offer their expertise in selecting the high performance or application specific cemented carbide rod best suited to solve your needs. We offer both standard stock rods and rods customized to position you to win.
| Size Range | D (mm) | L (mm) | Chamfer (mm) | Coolant Hole Diameter (mm) | Coolant Hole Tolerance (mm) |
| --- | --- | --- | --- | --- | --- |
| Minimum | 6 | 55 | 0.40 | 1.00 | 0.15 |
| Maximum | 25 | 152 | 1.00 | 3.00 | 0.25 |
Available Cemented Carbide Grades

Carbide Grade
Stocked
Grade Description

NEW

AM110

*Yes

Grade AM110 offers the hardness, toughness, and galling resistance required for demanding machining of superalloys such as INCONEL®. It delivers 35% more cuts per tool in workpieces made of INCONEL. The repeatable and consistent performance provides a predictable tool life.

AM50

Yes*

Grade AM50 offers a combination of high toughness and hardness to produce extraordinary edge sharpness that will not break down or chip in extreme heat conditions.

AM60

Yes*

Grade AM60 is an advanced substrate developed to increase machining productivity and performance for applications requiring chemical vapor deposition (CVD) diamond coating.

AM70

Yes*

Grade AM70 offers the perfect mix of toughness and wear resistance. It is recommended in applications where edge integrity is required to prevent corner chipping such as titanium and stainless steel materials.

PN90

Yes*

Grade PN90 offers exceptional performance when sharp edge profiles are required combined with high wear resistance while machining hardened steel (> HRC60) for mold and die applications.
*Contact your Hyperion salesperson for standard stock availability.
INCONEL is a registered trademark owned by Huntington Alloys Corporation in the US and elsewhere.
Did you know you can recycle your cemented carbide with Hyperion? Visit our recycling page or contact us for details.