Cemented Carbide
Cemented carbide (also known as solid carbide or tungsten carbide (WC)) is one of the most successful composite engineering materials ever produced. Its unique combination of strength, hardness, and toughness satisfies the most demanding applications.
Visit our resource website "All About Cemented Carbide" to learn more about how this unique material can be your materials solution.
Carbide Manufacturing
Hyperion Materials & Technologies is a leading manufacturer of cemented carbide solutions featured in applications and services within the areas of can making, aerospace, automotive, pump and seal, oil and gas, metal forming, metalworking, and hygiene products. Our vertically integrated manufacturing process allows us to control all the manufacturing steps from tungsten and cobalt powders to ammonium para-tungstate (APT) to the final carbide product.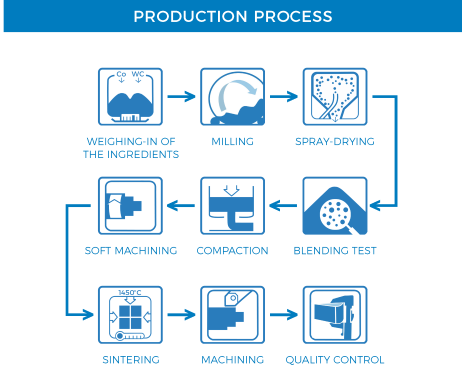 Hyperion is continuously developing new cemented carbides. In 2017, Hyperion established a new Carbide Research & Development Center, located in the Can Tooling Competence Center in Barcelona. The R&D Center employs researchers focused on developing next generation materials, products, and process technologies. Innovations in cemented carbide include addition of unique materials to affect grain size to unique materials to affect hardness to development of Hyperion's unique sinter-HIP process.
Visit our Products pages for additional information about our cemented carbide solutions:
Toolmaker Solutions
Engineered Solutions
Your Hyperion salesperson can offer their expertise in selecting the cemented carbide product best suited to solve your needs.